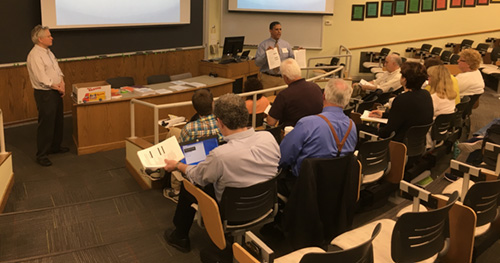 The newly formed Connecticut Biosafety Alliance held its inaugural event on June 17th at Wesleyan University's Exely Science Center with 30 people from the industrial and academic biosafety fields coming together from around the state to share their knowledge and experiences.
The event was organized by staff from Yale University, the University of Connecticut's Storrs and Farmington Campuses, and Boehringer Ingelheim Pharmaceuticals, Inc., which has its U.S. corporate headquarters housed in Ridgefield.
Ben Fontes, Yale University's Biosafety Officer, and Danielle Scavone, a Safety Advisor with Yale EHS, attended along with staff ranging from Pfizer to Mystic Aquarium to the Connecticut Agricultural Experiment Station. Vendors were also on hand to display their safety materials.
Lori Griffin from the State of Connecticut Department of Public Health served as the keynote speaker and discussed regulations on human pathogens.
Fontes co-presented a four-hour "Introduction to Biosafety" course along with Ron Wallace, UConn Health's biosafety officer. The course featured lectures and interactive exercises to practice the basic principles of biosafety.
"This gave us a chance to network with people in the biosafety field and find out what other people around the state are doing," Scavone said.