A serious safety issue has been found in some instruments shipped from SRS in September and October of 2019. The problem is in some detachable AC power line cords: a black 7'6" cord with a NEMA 5/15P "three prong" plug, terminated with an IEC320-C13 connector for mating with power-entry modules. SRS received two field reports of defective cords. No injuries have been reported.
As shipped by SRS, the cords are coiled and included with the instrument, in the same shipping box: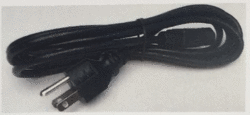 The returned defective cords show no visible damage. Electrical testing revealed that the LINE and GROUND leads were internally swapped between the plug and C13 terminals. When used with an SRS instrument, this will cause the instrument's outer metal covers to come to 120 VAC line voltage the moment the power cord is plugged into a wall socket. This created a severe electrical shock hazard which may put users at risk of injury or death.   

The detachable AC power line cords shipped by SRS carry the following text, embedded in the plastic molding at each end of the cord:

For more information, contact SRS at 408-744-9040.