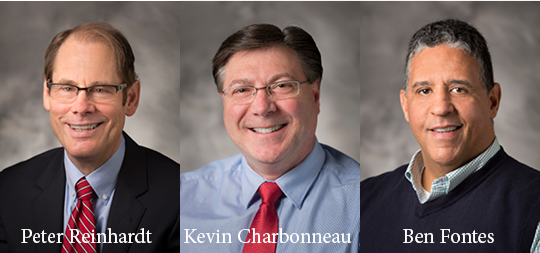 EHS Director Peter Reinhardt, Deputy Director Kevin Charbonneau and Biological Safety Officer Ben Fontes were honored with the Linda K. Lorimer Award for Distinguished Service during a virtual ceremony on Wednesday, November 18th.
The award, now in its seventh year, recognizes staff members who exemplify Yale's spirit of leadership, innovation, collaboration, and excellence.
President Peter Salovey and Linda K. Lorimer, former vice president for global and strategic initiatives at Yale and former Yale trustee, presented 51 staff members with the award, representing 10 key initiatives across the university. Many of the award winners, including EHS's trio, were honored for their service related to the COVID-19 pandemic. In presenting the award to Reinhardt, Charbonneau and Fontes it was said, "Under enormous pressure, this team calmly and rapidly led the creation and mobilization of an infrastructure that ensured university-wide biomedical safety during the COVID-19 pandemic."
Visit Yale News to learn more about the Linda K. Lorimer Award for Distinguished Service, see a list of winners and view a slideshow of the virtual ceremony.