Yale Environmental Health and Safety (EHS) is proud to announce a group of new safety advisors to the EHS team.
Safety advisors are health and safety specialists assigned to a geographic area within the Yale community to assist you in finding solutions to health and safety problems.
Your safety advisor will work cooperatively with you to provide information, training, and technical expertise along with assisting in the interpretation of regulatory requirements. By being assigned specific areas of campus, safety advisors are able to provide a more personalized service.
Visit ehs.yale.edu to find the safety advisor assigned to your location.
Ryan Cirillo


Ryan Cirillo has spent the past three years as a safety advisor technician for Yale EHS where he provided annual inspections for all safety showers, eye washes, and autoclaves. He also provided calibrations and minor repairs for meters surveying for radioactivity, performed iodination surveys/thyroid scans, and was an emergency responder to biological, chemical, and radioactive incidents. He was previously an environmental technician for EHS and an environmental specialist with Triumvirate Environmental, Inc. in Newington.
Cirillo earned his undergraduate degree in environmental health from the University of Connecticut in 2015 and is currently working toward his master's degree in environmental and occupational health science from the CUNY Graduate School of Public Health and Health Policy in New York City. 
He was awarded the American Industrial Hygiene Foundation's General Scholarship in 2020-21, the American Industrial Hygiene Association's CRV Local Section Scholarship in 2021, and the National Institute for Occupational Health and Safety's Education and Research Center Grant in 2021.
Paul R. Emery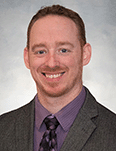 Paul R. Emery joins EHS from the PET Center at Yale University School of Medicine where he spent five years as a clinical assistant performing immediate quality control testing of short-lived 11C and 18F radiotracers for human subjects and animal research. His previous roles include field service engineer with mSPEC Ltd. of Branford, CT, toxicology laboratory supervisor for Calloway Laboratories of Worburn, MA, and senior analyst at the Drugs of Abuse Laboratory in Worcester, MA.
Emery earned his undergraduate degree in chemistry in 2005 and his master's degree in chemistry in 2009 from Worcester Polytechnic Institute where he was awarded the Provost's Award for Outstanding Major Qualifying Project.
Sean Rinehart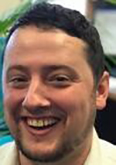 Sean Rinehart joins EHS from the Yale University Cleanroom. During this time he helped new researchers develop novel microfabrication experiments, and provided process guidance and plasma etching recipe development for more seasoned laboratory groups. A key component of his support and research experience stem from the management of a full suite of microfabrication equipment.
During his time at the Cleanroom Sean worked closely with EHS and national safety resources (OSHA, NIOSH). Faced with hazards including physical, high voltage electrical hazards, corrosive and toxic chemicals, and compressed gases, he regularly utilized engineering controls, administrative controls, and PPE to make the cleanroom a safer place to work.
Rinehart earned his undergraduate degree in electrical engineering with a minor in physics in 2011 and his master's degree in electrical engineering in 2012, both from the University of Louisville.  
Outside of work Sean has interests in hiking, digital content creation, and environmental advocacy. He spends his personal time replacing lawn spaces with gardens for native pollinators.
Caitlin Root


Caitlin Root earned her undergraduate degree in health physics in 2014 from Bloomsburg University of Pennsylvania and her master's degree in environmental health physics from Clemson University in 2019.
She spent the last few years as a health physicist in the professional training programs with Oak Ridge Associated Universities in Tennessee where she planned and led advanced, highly complex professional health physics assignments for multiple government customers, instructed health physics lectures and laboratory activities, and developed health physics content material for online trainings.
She previously worked as a laboratory safety specialist and a senior laboratory safety specialist for radiation protection for Princeton University's Environmental Health and Safety Department.
Edwin Siu


Edwin Siu comes to EHS after working as a research associate in the Yale University School of Medicine since 2019, where he served as a lab manager with an internal medicine/endocrinology research group studying metabolic diseases of bone and skeleton. Siu was responsible for the day-to-day functioning of research lab, developing and implementing animal research protocols, and managing animal colony. He also assisted in grant-writing and manuscript preparation.
His previous work experience includes serving as research assistant at the Yale University School of Medicine (internal medicine/rheumatology), a graduate research assistant at Florida State University, a graduate research assistant at the University of Notre Dame, a research technician for the Centers of Disease Control and Prevention, and a scientific officer for the Australian Army Malaria Institute (now the Australian Defence Force Malaria and Infectious Disease Institute).
Siu earned undergraduate degrees in parasitology, economics, and journalism from the University of Queensland in Australia in 2008, a master's degree in biological sciences from the University of Notre Dame in 2012, and a master's degree in history and philosophy of science from Florida State University in 2013.