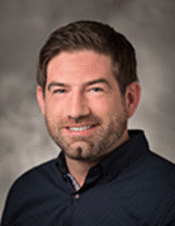 Like so many college students, Zach Tribbett found the major he originally chose wasn't quite the right fit for him. So, like so many college students, he looked to his academic advisor for, fittingly enough, advice.
"I started as a chemistry major and realized it wasn't for me," Tribbett said. "I was looking for something that was more in the vein of radiology because I had shadowed radiologists at the hospital in high school and found the work interesting. There are not many health physics programs in the country, and they are certainly not well advertised to incoming students, but my advisor asked if it was something I would be interested in. I found it a really fascinating field and the niche element drew me to it."
That marked the first step in Tribbett's climb to being named Yale's new radiation safety officer, replacing Tammy Stemen who retired in March after 31 years in the radiation safety field at Yale, the last 13 as its radiation safety officer. 
Tribbett, who was born and raised in northwest Indiana, earned his undergraduate degree in radiological health from Purdue University in 2008 and his master's degree in physiology from Ball State University in 2011.
He then took a job as health physicist and laser safety officer at Purdue University in the department of Radiological and Environmental Management, what he described as the equivalent to Yale's Office of Environmental Health and Safety (EHS). In the role, he managed Purdue's laser safety program, served as the coordinator for radiation safety trainings and performed radiation laboratory surveys, audits, safety evaluations and decommissions, among other responsibilities. In 2015, he became a Certified Laser Safety Officer (CLSO) through The Board of Laser Safety. 
After four years in the job, two of his close friends and former Purdue classmates who had made their way into the radiation safety program at Yale New Haven Hospital let him know about a job opening for a safety advisor at Yale EHS. He applied and started in 2016 as a health physics safety advisor and laser safety officer.
"I grew up in Indiana and had never ventured too far from home. I was content at Purdue but decided that I was ready for a new adventure," Tribbett said. "Becoming a safety advisor allowed me to expand my knowledge beyond the field of radiation safety. I had to learn more about chemical, biological and physical safety, and how these things function together. It gave me a holistic experience of how research laboratories run that has been really valuable to me."
"He had related university experience as a health physicist at Purdue, which is hard to find," said Stemen, who hired Tribbett in 2016 and his supervisor at Yale EHS. "His experience in laser safety was a big selling point, as well. He fit right in with the safety advisors. He made my job a whole lot easier because of the knowledge he brought with him. He had great training skills, which was a big part of my responsibilities at Yale that I was able to pass along to him."
Becoming a safety advisor at Yale also gave him the opportunity to get out into the labs and develop relationships that he is now building upon as radiation safety officer. He also has the benefit of being married to a Yale medical school researcher, which he said helps him better understand the pressures of working in a lab.
"I think you really have to strive to understand the needs of a lab and all the things they have going on at any one time," Tribbett said. "There's a lot of pressure from various sources and the work schedules are hectic. I strive to represent EHS as a collaborative safety department and not just a compliance department. Yale researchers want to do things the safe and correct way and I want labs to know that we are here to help them."
After three years in the safety advisor role, Tribbett was promoted to assistant radiation safety officer in 2019, which brought him back to a radiation safety-specific role, gave him staff reports and made him a member of EHS' Leadership Team. In 2020, he became a Certified Health Physicist (CHP) through The American Board of Health Physics.  
Stemen made it a point prior to her retirement to mentor her entire staff to be prepared to carry on after her retirement. She set up weekly meetings with the radiation safety team to talk about a variety of topics. She said she saw a "natural progression" in Tribbett ascending to the role of radiation safety officer.
"He just has this great ability to work with a wide variety of people," Stemen said, noting specifically his work with lab managers, the radiation safety committee, Office of the General Counsel, the Provost's Office, custodial staff, and police and security. 
With his new title, Tribbett is responsible for Yale's high-risk radiation programs, which includes ensuring compliance and licensing from regulatory agencies as well as overseeing all radiation safety trainings. He is the trainer for Radiation Safety Part II, which is required for anyone using unsealed radioactive materials and sees around 1,000 trainees per year.
He said he is thankful for the EHS staff's support and Stemen's foresight as she prepared for retirement.
"Tammy did not leave a program in need of repair, instead she left a program that was ready to continue growing and be built upon," Tribbett said. "In terms of the support and prestige, in my field, there's really no better place to be a radiation safety officer than Yale University. I look forward to continuing to support the great work being done here and developing the relationships I have made, as well as creating new ones in the future."