Caitlin Root knew she wanted to work at Yale University back when she was still an undergraduate student at Bloomsburg University of Pennsylvania. A health physics major, Root landed a summer internship at Yale Environmental Health and Safety (EHS) during the summers of 2013 and 2014. She spent that time conducting radiation surveys, performing sealed source leak tests, surveying and delivering radioactive packages, and conducting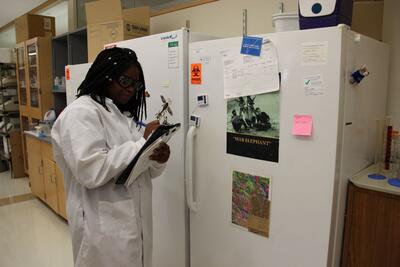 laser surveys, among other tasks.
After completing her graduate work in environmental health physics at Clemson University, Root took a job as a laboratory safety specialist in Princeton University's EHS Department, as there were no openings at Yale EHS at the time.
Finally, in March 2022, a job opened at Yale and Root happily returned to where she started. She is now a safety advisor using her health physics background to work with staff in the Positron Emission Tomography (PET) Center.
"That internship helped me immensely," Root said. I think it is what got me that first job. Having that background and knowledge as an intern helped me know what to expect. When I started my first job, I realized it was what I was doing as an intern, just at a higher level."
EHS has been working with interns in the health physics field for about 10 years. Only a few universities in the country offer a health physics program and EHS has built a relationship with those institutions to identify potential interns. Recently, the University of Alabama-Birmingham started a new health physics program and Zachariah Tribbett, Yale's radiation safety officer, has a partnership with the head of the program. This year's health physics intern, Raquema Williams, is going into the second year of her master's program at the school.    
"This gives students an opportunity to fine tune their interests," Tribbett said. "It is getting harder and harder to find quality people in the world of health physics because there are fewer people entering the field. This is an opportunity for Yale to participate with developing the next generation."
The next generation is also getting a taste of the academic safety world through a partnership between EHS and the New Haven Promise scholarship program, which was created in 2010 as a way to help qualified New Haven students afford college. It has since grown into a program that also helps these students gain valuable skills for post-graduation.
Each year, global pandemics aside, EHS brings in student interns through the program to help with a variety of daily tasks and special projects. The students get a chance to learn about state and federal regulations while working to help keep members of the Yale community safe.  
In 2017, a group of student interns, under the supervision of EHS Safety Advisor Shumin Bian, helped lead the Biosafety Stewardship Project-Cold Storage Inventory Project. They personally labeled over 3,500 cold storage units with unique identification numbers in laboratories around campus to create an online inventory system and also supported EHS staff in assisting laboratory personnel with creating their own inventory system to identify all of the contents of their cold storage units. The students, Julio Badillo, Ray Charles Capanzana, Taylor Gainey, Donique Haynes, and Koleyatu Sheriff, were recognized with EHS's Dariusz Czarnota Award of Excellence, named in honor of Dariusz Czarnota, a safety advisor at EHS from 2001 until his untimely death in 2012.
Bian still maintains a connection to that group of students, some of whom have found permanent or temporary jobs at Yale and some of whom have since gone on to graduate school.
"It is really a privilege to get to work with these students," Bian said. "You feel how much you are going to impart on them and how much of an effect it is going to have on their lives."
"These internships give them a peek into the world of work and EHS has always been a great partner for us," said Chris Brown, Yale's director of New Haven Hiring Initiatives. "The students get experience in a professional setting and they get to work alongside professionals. They become colleagues."
The New Haven Promise scholarship is an annual award that covers tuition expenses remaining after federal and state government grants at a Connecticut public 2 or 4-year college or university, up to $10,000 a year over four years. To qualify, students must be a New Haven resident and attend New Haven public schools or an approved charter school in New Haven, have a positive disciplinary record during high school, complete 40 hours of community service over their four years in high school, have a 90 percent attendance record or better in high school and have a cumulative GPA of 3.0 or higher at graduation. To maintain the scholarship in college, they must keep a GPA of 2.0 or higher each semester. 
"We are helping scholars to achieve that New Haven Promise mission through interesting and engaging work," Brown said. "That mission is to go to college, go through college, and, hopefully, come back to New Haven."
For more information on the New Haven Promise scholarship program, visit newhavenpromise.org.