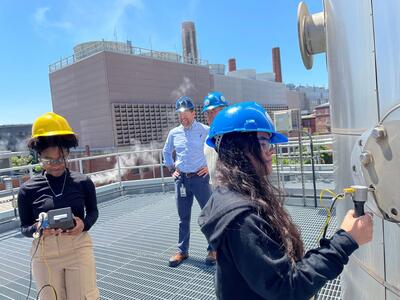 Ayana Salahuddin and Julianna Santana did not know much about the field of environmental health and safety when they began their internship. That quickly changed over a three-week period working with a diverse group of staff members at Yale EHS.
Photo caption: Ayana Salahuddin (left) and Julianna Santana take samples of measured concentrations of cogeneration emissions at the Sterling Power Plant stacks as Dave Krochko (back left) and Jim Romanski look on.
Salahuddin and Santana, both 17-year-old juniors at New Haven Academy, spent their days in trainings and in the field with Yale's expert safety staff learning about biological safety, chemical safety, radiation safety, environmental affairs, physical safety, and hazardous and non-hazardous waste. New Haven Academy (NHA) is an interdistrict magnet school and part of New Haven Public Schools. NHA juniors spend three consecutive weeks working at internship sites across the community, engaging in hands-on experience in careers that they are potentially interested in pursuing after college. By working with people who have professional experience in a given field, students have the opportunity to think critically about their own career goals and to develop their general workplace skills. Previous internships through the school have ranged from working with the City of New Haven (government offices) to Toad's Place.
The students took a survey to help connect them with an area of interest. Both Salahuddin and Santana are interested in science and got paired with Yale EHS. During their internship, more than 30 EHS staff members gave them a taste of the safety world at Yale.
"The staff was so welcoming," Santana said. "They talked to us about what we were interested in and we both like biology so they brought us to a DNA lab. We also learned about areas we did not know as well such as radiation safety. It felt like one big family."
"EHS created opportunities for much of the office to volunteer to show these students many aspects of our profession," said Ben Fontes, senior associate director and biological safety officer for Yale EHS. "The response from staff was tremendous. They spent some time explaining what we do, providing resources, and then went out into the field to help the students see it in action."
The students took part in respiratory FIT testing, tested fume hoods, tested emergency showers and eyewashes, and observed hazardous waste collection. They also saw the autoclave shredder, learned about fall protection, and studied pesticide placement at the Yale Golf Course. 
"I've been in some research facilities before, but to see the environmental side kind of made a full-circle picture of how safety staff and labs work together to make sure everybody and everything is safe," Salahuddin said.
"We got to see how it really takes collaboration from all ends," Santana said.
They spent one of their mornings with EHS touring the Sterling Power Plant with Jim Romanski, power plant EHS officer, and Dave Krochko, air pollution compliance engineer. The pair was even able to climb the steps to the platform at the Sterling Power Plant stacks to take samples of measured concentrations of cogeneration emissions.
"As a member of the university's Children and Youth Programs Committee, I personally see all the great programs and activities that faculty, staff, and students offer to local communities in and around New Haven," said Kevin Charbonneau, executive director of Yale EHS. "Through this committee, I have also had the pleasure of working with colleagues in Yale's New Haven and State Affairs Office, specifically Claudia Merson, Maria Parente, and Rick Crouse, who champion so many educational opportunities to the youth of New Haven. Recently, I was thrilled to have worked with them and the New Haven Academy Internship Coordinator, Sara Armstrong, to provide an internship opportunity for two of their outstanding students. It was a great opportunity for them to learn about careers in environmental health and safety, as well as an opportunity for our EHS team to showcase the important work we do every day trying to keep the Yale community safe. We look forward to hosting other students in the future."
Fontes said these internships for the next generation of potential safety professionals is mutually beneficial.
"For the students, if they have an interest in EHS, they really have an opportunity to see if it is something they may want to pursue as a career," he said. "We are not seeing as many young people in the occupational health and safety profession. We all need to do more to market our profession to get young students interested. We need to do what we can to shine a spotlight on this profession and grow the future of EHS, especially in the New Haven area."