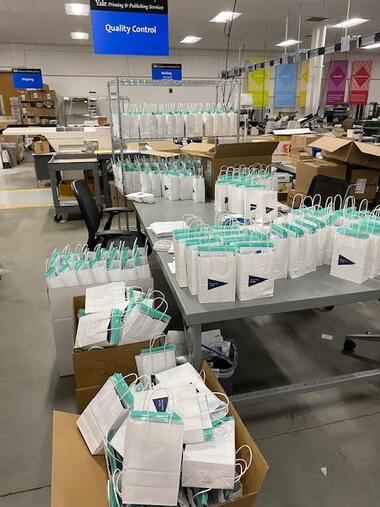 Staff at Yale Environmental Health and Safety (EHS) recently worked in collaboration with staff at Yale Printing & Publishing Services (YPPS) to assemble 7,000 Return to Campus kits for undergraduate students as they return to campus for the fall semester.
The kits, which have been delivered to all 14 residential colleges, contain KN95 masks, rapid antigen tests, polymerase chain reaction (PCR) tests, and instructions on how to properly use them. EHS worked with YPPS and Yale Procurement to order the supplies, which were stored at 344 Winchester Avenue.
YPPS needed some help assembling the kits and EHS leadership sent an email to staff asking who was available. Within minutes, several EHS staff had volunteered. Safety Advisors Josh Armstrong, Ryan Cirillo, Caitlin Root, and Paul Emery, joined Safety Advisor Technicians Steve Cranford and Michal Narowski in assembling the kits alongside YPPS staff over the past week.
"It was a true collaboration and a testament of what can be accomplished when a team effort is employed for a project of this size," said John Poitras, YPPS production coordinator.   
EHS and YPPS have been partnering throughout the COVID-19 pandemic, working together on the distribution of personal protective equipment as well as signage throughout the campus.
"EHS is such a collaborative team," said Mike Kaseta, EHS's operations manager. "When asked a moment's notice, people have shown time and time again that they are willing drop what they are doing to help support the faculty, staff, and students at Yale."