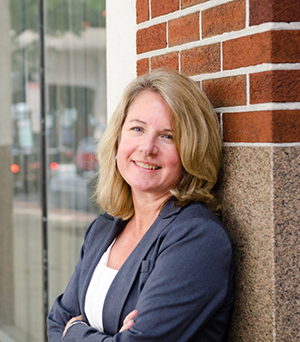 Tammy Stemen's 31-year career in radiation safety at Yale all started with a one-credit course at Purdue University. That, and her father's persistence.
Stemen retired as Yale's Radiation Safety Officer in the Office of Environmental Health and Safety (EHS) on March 5. That marked 31 years to the day after she arrived for her first job at the university as a health physicist in an office littered with mouse droppings and filled with her supervisor's cigar smoke in the basement of Kline Biology Tower.
"We used a typewriter and our first computer was a Wang word processor," Stemen recalled. "We wore pagers and our first cell phones were those Nextel phones that were really walkie talkies. It's changed quite a bit."
Stemen grew up in Connecticut and spent a lot of time outdoors camping and skiing with her family. She knew she wanted to attend college, but was unsure of her major. She started taking classes in science and engineering at Purdue University and considered going into the medical field. In her junior year, she had a guidance counselor big on health physics who suggested she take a one-credit course where she simply listened to health physics majors present on their previous summer internships. Stemen graduated from Purdue in 1987 with a degree in health physics.
The next weekend, she married her college sweetheart, Christopher Stemen. They flew to Hawaii for a quick honeymoon and then it was on to California to start her career as a health physicist/assistant to the radiation safety officer at a biotech company in San Diego.
Every week, Tammy and Chris would receive an envelope from Tammy's father back in Connecticut. It contained the Sunday classified ads from the Hartford Courant.
"He missed us," Stemen said. "He wanted us to move closer to CT."
One envelope in August, 1989 brought an ad for a health and safety technician in Yale University's Department of Radiation Safety. Stemen did not get the job, but found there was another job opening as a health physicist. By early 1990, she and her husband had left sunny California and returned to a New England winter.
Stemen's career began at a turbulent time for radiation safety at Yale. The Nuclear Regulatory Commission (NRC) had concerns with some of the university's processes. In turn, the university made a commitment to hire more people. One of her main jobs was to deal with the backlog of radioactive use authorizations for around 350 authorized principal investigators. Stemen could often be found traveling through the medical school, carrying waste containers and a Geiger counter. She also began her role as a trainer.
"I did a lot of training classes those first 20 years," she said. "Probably close to ten thousand people over the course of my time."
In June of 1991, the groups that made up the Office of University Safety came together in a centralized location at 135 College Street, Suite 100 to create Yale's Office of Environmental Health and Safety and Stemen officially became part of EHS. She was promoted to senior health physicist and earned her certification through the American Board of Health Physics in 1998.  
She was promoted to assistant radiation safety officer in 1998 and got more involved in licensing and regulations required by the NRC, the State of CT Department of Energy and Environmental Protection (DEEP), the U.S. Food and Drug Administration (FDA) and the Environmental Protection agency (EPA).
She also had the opportunity to provide support to Yale's Positron Emission Tomography (PET) Center, which broke ground in 2004. PET is a non-invasive diagnostic imaging technique that provides researchers and clinicians with quantitative visual images of organ function. The PET Center utilizes a cyclotron, a type of compact particle accelerator which produces radioactive isotopes that can be synthesized into radioactive drugs and used for imaging procedures.
"That was a whole new ballgame," Stemen said. "Having a cyclotron on campus to make our own radioactive materials changed everything. There were so many big changes in biomedical research going on. It certainly has changed its shape over the years." The PET Center brought with it the conduct of research with radioactive materials in volunteer human subjects. This required Stemen to write a whole new NRC "medical use" license, to develop a partnership with the Yale Human Research Protection Program and to expand the university's Radiation Safety Committee (RSC) expertise to oversee this new program. Having served on Yale New Haven Hospital's RSC as a liaison between the two radiation safety programs since 1992, Stemen was in good position to lead this new effort.
Stemen was promoted to radiation safety officer in 2008. In the role, with the assistance of her five direct reports and numerous colleagues in EHS, she oversaw the safe use of radioactive material, x-ray equipment and lasers by thousands of researchers in hundreds of labs across all the Yale campuses. Stemen is listed on three NRC licenses and multiple state registrations as the responsible individual for ensuring Yale has a robust radiation safety program. During one of her final weeks on the job, she led her team's last NRC inspection of Yale. The NRC found no violations and, in very rare fashion, complimented numerous aspects of the program.
"One of the things I've always loved about my job was the great variety of things I could get involved in," she said. "I'm so grateful that I always had a nice mixture of getting out to labs, conducting live training sessions and constantly getting to meet people. I also enjoyed the time at my desk, writing regulatory reports, calculating shielding needs, reviewing personnel exposures, signing off on authorizations and documenting all sorts of great work done by EHS staff. I liked to learn about the research that's taking place and took pride in being able to support it."
Along with the technological advances Stemen has seen during her career, she has also seen the advancement of women in her field. When she was first starting out, she tried to get involved in the Connecticut Chapter of the Health Physics Society, but felt uncomfortable as a young female in a group of predominantly older males. She said that has changed and estimates that the health physics world is now made up of "close to 50 percent women."
"It was definitely a male-dominated field, but it's not anymore," she said. "I think it's the variety the job offers. There's also a strong people aspect to it as well. There is a lot of interaction, counseling, guiding. There really is a softer side of health physics in addition to highly technical aspects. The mix is terrific."
Some of Stemen's most memorable and proud interactions have been with several pregnant women whose research required the use of radioactive materials. When the women became pregnant, they were sure it meant the end of their research. Stemen spoke with the women and discussed the safety guidelines in place to allow for pregnant women to continue on in the safest way possible.
"Just having that opportunity to educate people so that they made better decisions is something I'm really proud of," she said. Stemen also professed pride about the implementation of a health physics summer intern program. Started in 2010 by Stemen and her team, EHS has provided an internship opportunity to a student studying health physics for most of the past 11 years. Previous interns have all gone on to complete their degrees and are successfully employed in the field throughout the country.
She will also never forget the EHS colleagues she has worked with throughout her career, the lessons they have taught her, the memories they have made and the friendships they have formed.
"That has made all the difference in having a happy, healthy and satisfying career," Stemen said.
Thecla Abbiati, a lab manager in the Department of Internal Medicine (Nephrology), has called on Stemen for a number of services over the years ranging from routine authorizations and renewals to decommissioning lab space to providing support for the design of new space with high-traffic and high radioactive use. Additionally, Abbiati said, "during those few times when we've experienced minor incidents, Tammy has provided calm and professional assistance."
"Tammy has brought unsurpassed dedication and professionalism to the university," she said.  "Beyond her knowledge and expertise, she has offered common sense approaches to problem solving and a willingness to offer a supportive hand. She has always been a reliable confidant for all things radioactive. I congratulate her on her service and wish her a long and fulfilling retirement."
Paul Bongiorni, manager of Research Irradiator Facilities and director of Core Facilities in the Department of Therapeutic Radiology at the Yale University School of Medicine, echoed that statement.
"It has been a pleasure working with Tammy during her entire time at Yale," Bongiorni said. "Through every NRC inspection and all the irradiation machines that I manage at the medical school, Tammy has always been there as a colleague and a friend. Her professionalism and dedication to her job is what makes her a special person. She will be sorely missed by everyone. I am glad she is starting her next phase after a tremendous career at Yale."
Now Stemen will move to her dream retirement home in Vermont, where she and her husband can "ski and hike to our hearts content." They also plan to visit with friends and family. Their son Charlie, 28, is a self-employed photographer and graphic designer in Montana, and their son Nate, 26, is a PhD student studying applied math at Waterloo University in Canada.
While her vast experience and cheerful presence could never be replaced, her dedication and forward-thinking will have an impact on the department for years to come.
Kevin Charbonneau has worked alongside side Stemen for all of her 31 years. He began as a health physicist just a few months after she arrived at Yale. Now the EHS deputy director and co-manager of the Safety Advisor Program, Charbonneau called Stemen and her husband "two of my best friends."
"She's been a rock in our office for over 30 years," he said. "As she's gotten more and more responsibility, she always had an eye toward mentoring her staff. She has created a program that is sound in terms of regulations and compliance and has matched that with the staff that support her and the program. Now with her leaving, there is a tremendous foundation that she has built. As a result, she leaves the program in pristine condition, ready for the next person."