Updated: September 27, 2021
Distance minimizes the risk of both droplet and aerosol transmission. Even if vaccinated, avoid crowding in indoor spaces. Spread out to give everyone more space or move to a larger space.
The following situations require 6-foot physical distancing:
Six-foot physical distancing is required in gyms regardless of vaccination status
If you are unvaccinated, maintain 6-foot physical distancing from others both indoors and outdoors.
Unvaccinated individuals must maintain 6-foot distancing in dining halls. In some locations, plexiglass barriers remain at some tables as an option if preferred, but unvaccinated individuals are not required to sit there.
Regardless of vaccination status, instructors need to maintain six-foot distancing (and mask) when lecturing and leading discussions. Plexiglass cannot substitute for masking in classrooms because plexiglass does not materially prevent the dispersal of aerosols in a room, or prevent aerosol accumulation.
If you are in a location in which you interact with the public or outside visitors, 6-foot physical distancing is recommended. Plexiglass may be appropriate. Please see below.
Additionally, see Yale's Requirements for Yale-sponsored Events for other physical distancing requirements as well as Occupancy Requirements and Limits.
Accommodating Physical Distancing
As noted above, unvaccinated individuals need to maintain six-foot distancing from others. Other individuals may prefer to physically distance as an additional safety measure.
While vaccinated and unvaccinated individuals do not need to sit separately at meetings, in classrooms, in breakrooms/lunchrooms, or other locations, individuals who need or want to distance should seek areas of a room that allow physical distancing. Arriving early or off-hour use will facilitate this. As others approach, ask them to respect your need to distance.
Individuals who do not need to physically distance should respect and accommodate those who prefer or need to physical distance.
In some spaces, it may be helpful to post guidance that identifies areas for physical distancing, or otherwise limits occupancy and crowding to allow for physical distancing.
Safe Outdoor Meetings and Gatherings
All academic and social events, meetings, gatherings, and activities for students, faculty and staff of any size (other than those occurring as a regular part of a course or class on the scheduled academic calendar) must comply with Requirements for Yale-sponsored Events. These requirements also apply to all business or social gatherings in administrative units. Contact your unit's Health and Safety Leader if you have questions.
Note that singing, loud speech, or high-exertion exercise increase the risk of transmission to individuals both indoors and outdoors. Special requirements have been provided to the School of Music, Institute for Sacred Music, residential college music practice rooms, and other performance spaces, as well as gyms, fitness centers, and Athletics. Other events or activities that wish to include singing or sports (either indoors or outdoors) should contact the COVID Review Team for guidance.
Bathrooms and Elevators
Bathrooms and elevators will operate at full capacity, unless otherwise noted.
Cubicles
For information masking and distancing in cubicles, please see Safe Campus Practices.
Partitions and Barriers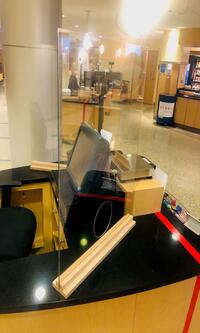 Because plexiglass guards can limit the transmission of COVID-19 via droplets, they may make sense for locations where members of the Yale community interact with the general public or visitors and vaccination status is unknown. Please contact EHS or the Office of Facilities for more advice.
Facilities can custom fabricate a variety of protective shields and barriers. To order, complete an online Facilities Service Request (VPN required).
Example: Plexiglass barrier installed at reception desk.
Physical Distancing Off Campus
While the Yale community has a high rate of vaccinations, you are more likely to encounter unvaccinated individuals while off campus and additional precautions may be prudent. For the latest guidelines, please see the CDC guidance on personal and social activities for vaccinated and unvaccinated people as well as guidelines from the Connecticut Department of Public Health.