Your cooperation with these requirements will keep you and others healthy. Face-to face-contact is the primary means of transmitting COVID-19. Distancing, spending fewer days on campus, and an overall reduction in the campus population (de-densification) reduces viral spread and the need to devote Yale resources for disinfection, personal protective equipment (PPE), virus testing, contact tracing, etc.
Remember that you are expected to wear a mask or a face covering when outside or inside any space that can reasonably be expected to be shared—even when distancing requirements are met.
The 5-person maximum gathering limit, effective in May and June, no longer applies. Other State rules are likely to change, so please re-check this page occasionally.
Physical distancing is important when on and off of campus, as explained below.
Work From Home if You Can
Unless asked to return to campus, faculty, staff, students, and trainees who can work remotely should continue to do so.
Stay at Least 6 Feet From Other People
Stay at least six feet (about two arms' length) from other people. Distance minimizes the risk of both droplet and aerosol transmission. In lobbies, workspaces and where queues may form, install visual social distancing markers to encourage individuals to remain 6-feet apart. These markers are available from Facilities.
Please note: As noted below, please request an evaluation from Environmental Health and Safety for any task that requires that two or more people work within 6 feet of each other (i.e., proximity work). Contact ehs@yale.edu.
Rearrange Space and Establish Discrete Work Zones
Rearrange space to maintain 6-foot of distance between individuals and stagger the position of workstations so individuals can avoid sitting opposite each other. This may require keeping some workstations empty and/or marking workstations that should not be used.
Where possible, segment floors and buildings into discrete zones, prevent movement between zones so that individuals stay within a single workspace or on a single floor. Confine your movement to the same access routes, bathrooms, etc. Close spaces where individuals congregate, such as break rooms and reception areas.
Consider establishing and marking separate routes for entry and exits to minimize the possibility of close encounters when people walk to or from their destination. (In an emergency, people are to take the closest exit.)
Occupancy Requirements and Limits
In additional to the six-foot personal distancing requirement, Yale and State of Connecticut standards limit rooms, floors and buildings to either 1 person per 150 square feet or 50% of usual occupancy or less. More populated floors and buildings result in congestion in entryways, stairways, bathrooms, elevators, waiting areas, break areas, printer/copier rooms, other common areas, etc. Higher occupancy presents a higher risk of aerosol transmission.
The occupancy standard can be met by scheduling multiple daily shifts for occupants, by grouping occupants and alternating their access (e.g., every other day) or implementing other ways of staggering work schedules.
Examples: In a study or office setting, keep half of the carrels/cubicles unoccupied. Floors comprised of single-occupancy offices should only have only half of the usual occupancy at any time.
Other Shared Indoor Space
Occupancy rules have been posted for bathrooms. Dining areas follow alternative standards for barriers and distancing. Physical distancing rules should be posted for other shared space (e.g., conference rooms, shops, printer rooms, shared labs, etc.) to ensure compliance with six-foot distancing and occupancy limits. Commonly-touched surfaces should be disinfected before and after use. For shared space that does not require card access, a user log is recommended to facilitate possible contact tracing.
Partitions and Barriers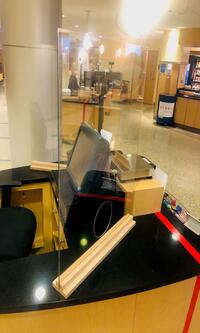 EHS and Facilities may recommend a partition or barrier between individuals where a 6-foot distance cannot be maintained, such as a cashier or point of a transactional service. Plexiglass guards and shields have been installed in reception and dining areas. Facilities can custom fabricate a variety of protective shields and barriers. To order, complete an online Facilities Service Request (VPN required).
Since masks are required at Yale, installation of a partition or barrier is not necessary if people remain six feet apart. Similarly, plexiglass barriers are unnecessary in classrooms because students and instructors are to wear masks and keep six feet from each other.
Note that partitions may not be installed in classrooms, work areas, or break areas for the purpose of spacing people within six feet of each other. Occupancy limits apply. (Dining areas follow alternative standards for barriers and distancing.)
Requirements for cubicles are explained below. In other situations, the partition or barrier should rise five feet from the floor when individuals are seated and six feet from the floor for standing individuals.
While a physical barrier such as a plexiglass guard can limit the transmission of COVID-19 via droplets and aerosols in a well-ventilated space, they are not a substitute for mask wearing. A barrier is generally inferior to a mask or face covering for source control.
Example: Plexiglass barrier installed at reception desk.
Person-to-Person Transactions
Similar to a store cashier, some campus activities involve a series of brief personal transactions at close range, when people are closer than six feet to each other (e.g., library checkouts, registering students, distributing materials, processing paperwork, etc.). In these instances:
Everyone should wear a mask or face covering.
Minimize the need for face-to-face interactions by changing procedures, logistics, and layouts. For example, direct people to pick up materials from an unattended table. Or schedule appointments (e.g., outdoor pick-up).
If queues form, require that people stay six feet apart.
Minimize the duration of the event and of individual transactions.
Maximize the face-to-face distance during the transaction.
Temporary barriers (e.g., plexiglass shields) are recommended and available from Facilities via an online Facilities Service Request. A desk-level cutout can be used to exchanging papers and other materials.
If materials are exchanged, hand sanitizers should be available and used.
Other Proximity Work
During the pandemic it is important to change work practices to avoid and minimize tasks that require that two or more people work within 6 feet of each other (i.e., proximity work).
Creative alternatives can often be found, such as the assistance of mechanical devices or remote instruction using Zoom. If proximity work is unavoidable, please request an evaluation from Environmental Health and Safety by contacting ehs@yale.edu.
Example: Two people moving delicate artwork or heavy laboratory equipment.
Physical Distancing Off Campus
It is important to wear a mask, wash your hands, and minimize face-to-face contact with others when you are not on campus. As of July 3rd, the State of Connecticut allows indoor private gatherings of up to 25 people (100 people outdoors). However, the U.S. Centers for Disease Control and Prevention (CDC) emphasizes the importance of keeping six feet from others in all social situations.
Do not stay at gatherings or establishments where people are not keeping six feet from one another. Masks and face coverings may help, but you are at high risk of contracting COVID-19 in a crowed space.
Think of others. Contracting COVID-19 is a serious concern for young people, even if the risk of severe disease is lower. Infected students who develop mild disease or are asymptomatic can transmit the disease to others, which can lead to increased community transmission and deaths in vulnerable populations.