Yale Environmental Health and Safety (EHS) is pleased to announce the promotion of four well-deserving staff members. These promotions are part of a reorganization of the department to help better serve the Yale community.
"These promotions will also be the impetus to reassess and optimize existing work practices to better align with the University's Mission, Provostial strategic initiatives, and the needs of the community we serve," said Kevin Charbonneau, EHS executive director. "Please join me in offering them congratulations in their new and important roles within EHS."
Please see the EHS organizational chart for more.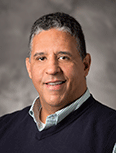 Ben Fontes has been named senior associate director along with his duties as Yale's biosafety officer. Fontes began work at Yale in 1995 and had also served as the co-manager of the Safety Advisor Program for the past 20 years. He has previously worked in the Radiation Protection and Biological Safety Departments in the Environmental Health and Safety Office at Harvard University, serving as health physics technologist, assistant biosafety officer, and associate biosafety officer.
Fontes has an undergraduate degree in biology from Wesleyan University (1986) and a MPH in industrial hygiene from the University of Michigan (1995). He is a Certified Biological Safety Professional and an active member of the American Biological Safety Association (ABSA), where he served as the association president in 2010. He also previously served as an ABSA Councilor (2002-2005) and chair of the ABSA Training and Education Committee (1999-2002). Fontes is a member of the International Society for the Advancement of Cytometry Biosafety Committee, City of Boston Public Health Department Biosafety Committee, and American Industrial Hygiene Association Biosafety and Environmental Microbiology Committee. He is also the former board chair of the International Federation of Biosafety Associations.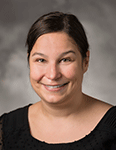 Maren Schniederberend, biological safety supervisor, has been named co-manager of the Safety Advisor Program. Safety advisors are health and safety specialists assigned to a geographic area within the Yale community to assist you in finding solutions to health and safety problems. Since joining Yale EHS as a Safety Advisor in 2017, Schniederberend began assisting with all aspects of the biosafety program and has taken key roles with the review of protocols for the Human Gene Transfer Subcommittee and the Yale Biological Safety Committee. She is also a member of the BSL-3 Subcommittee and helps lead the training and work practice observations of new high-risk human pathogen researchers at Yale. She was promoted to her role of biological safety supervisor in 2021.
Schniederberend obtained her PhD in microbiology from Osnabrück University in Germany and, before coming to EHS, was a post-doctoral associate in the Yale Infectious Diseases Department in Professor Barbara Kazmierczak's laboratory. Her vast experience in microbiology has significantly benefited EHS, the Safety Advisor Program, and researchers throughout Yale.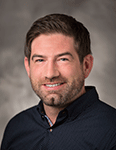 Zachariah Tribbett, radiation safety officer and laser safety officer, has been named co-manager of the Safety Advisor Program along with Schniederberend. He joined EHS in 2016 as a health physics safety advisor and laser safety officer and was promoted to assistant radiation safety officer in 2019, became a Certified Health Physicist (CHP) through The American Board of Health Physics in 2020, and was promoted to radiation safety officer in 2021.
Tribbett earned his undergraduate degree in radiological health from Purdue University in 2008 and his master's degree in physiology from Ball State University in 2011. He then took a job as health physicist and laser safety officer at Purdue University in the department of Radiological and Environmental Management. In the role, he managed Purdue's laser safety program, served as the coordinator for radiation safety trainings and performed radiation laboratory surveys, audits, safety evaluations and decommissions, among other responsibilities. In 2015, he became a Certified Laser Safety Officer (CLSO) through The Board of Laser Safety. 
Neil Whiteside joined EHS as its assistant radiation safety officer in 2021 has been added to the EHS Leadership Team and is now manager to four staff members in the radiation safety section. Prior to his arrival at EHS, Whiteside worked at Yale New Haven Hospital as a health physicist/assistant radiation safety officer for nearly eight years and as the hospital's radiation safety officer for over a year. He was a medical health physicist at the University of Michigan prior to his move to the New Haven area.
Whiteside earned his undergraduate degree in radiological health from Purdue University in 2006 and his master's degree in health physics from Purdue University in 2007. He is a member of the American Association of Physicists in Medicine and the Health Physics Society.
Since joining EHS, Whiteside has worked with Yale Medicine and the PET Center to implement some major policy changes and has also served as the coordinator in a switch to a dosimetry vendor.